Web Hosting Updates – July 2018
Site Security – SSL Certificates
Google Rules The Internet World!
Yes, today Google dictates most of the Internet world and coming in July 2018 they will begin to mark all websites without a website Security Certificate as "not secure".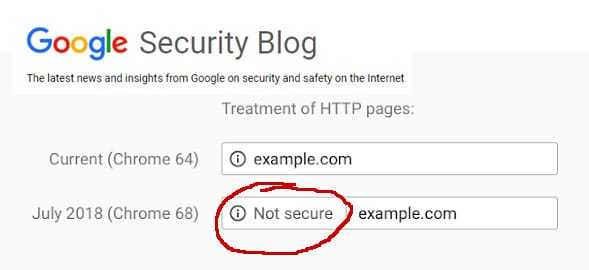 Why is Google doing this? All of the security hype and the recent Facebook fiasco has prompted Google to take the lead and force website owners to verify their website via a Security Certificate and SSL (secure sockets layers).
Is this a good move? Yes, the end result will be that all "secure" websites will have been verified that they are "who they say they are" and will give website visitors more security assurance.
What will this cost? There is an annual fee for your Security Certificate. Also, there is a fee for installation and configuration of all your web pages and website content..
Annual Fee for Security Certificate – $100
Installation & Website Configuration – $150 (one-time fee)
Total Cost – $250
Read More (pdf file) >
Google's new Search Engine Ranking depends on 2 Factors:
Site Speed & Mobile-Friendly Websites

Beginning July 1, 2018 your website will have been upgraded to our new Web Hosting Server. With this upgrade, your website will have the Latest Technology and the Fastest Speed. This will give your visitors a better experience and, hopefully, will generate more business for you.
Google has concluded that if your website takes too long to load, visitors will leave and will not wait.
*Note: This is an update we decided to make in order to offer the Best Web Hosting for our clients.
Old Web Hosting Pricing – $14.95 per month
New Web Hosting Pricing – $24.95 per month
Since our billing runs January – December, your new Web Hosting will cost $299 per year.
*Note: You will be billed for the upgrade of $60
($10 per month for 6 months; July – December 2018)

Google has concluded that if your website is not mobile optimized, visitors will leave your site.
Two years ago we began developing websites that were Mobile Optimized. At that time some clients with older websites chose to add a second, mobile website that is shown to visitors with mobile devices. Currently, we offer these options for you:
Existing Website / Re-design – We can re-design your existing website and ensure the new site is mobile-friendly
Existing Website / Addition of Mobile Website – We can build a Mobile Website to compliment your Desktop Website
New Website Design – If you do not have a current website, we will build a responsive website that is mobile-friendly